The best thing about outdoor grilling is that it's not limited to your "outdoor" backyard, patio, or balcony. The whole world is your "outdoor." Now, you can put yourself through the trouble of dismantling your grill to bring to a tailgate party or picnic. But why try to awkwardly fit your full-sized grill into the trunk of your car when you can enjoy brisket at the beach with a portable grill? These grills ensure you're able to enjoy true outdoor cooking wherever you go.
Naturally, some portable grills use gas while others use charcoal. And some have been specifically designed for tailgating while others are more suited for the wilderness. So if you're in the market for a portable grill, you've got a lot of options to go through. But no worries.
We've put in some work, sampled so many grilled meals, and found the best portable grills in the market today that will suit a variety of needs and budgets. Check out which of our top 12 is going to be the grill that gives you BBQ-on-the-go.
Top 12 Portable Grills Of 2020 Reviewed
1. Weber 51010001 Q1200 Liquid Propane Grill
Portable Grill on the Market
We love Weber. But that's not why this little grill is our number one pick. Weber is the gold standard for all grills for a reason. The company consistently offers top quality grills that provide you with deliciously grilled meals. Not only do their grills produce perfect results, you know that these babies won't be breaking down anytime soon. In fact, Weber grills have been known to last for generations. So, it shouldn't be any wonder that the best portable gas grill we found would be a Weber.
The Q1200 features a cast aluminum dome-shaped lid and body, split porcelain-enameled cast-iron cooking grates, one 8500 BTU stainless steel burner, an infinite burner control valve, an easy-start electronic ignition, and a built-in thermometer. For cleanup, Weber designed a removable, angled grease tray along with a disposable catch pan. If you need prep space, this little grill comes with fold-out side tables. And to help you transport your grill from point A to point B, this baby comes with ergonomic side handles.
What we love about this grill is the fact that it cooks like a full-sized grill. The D-shaped burner ensures that the heat is distributed evenly while the cast aluminum body and lid are perfect for heat retention. The split grates mean you can buy a cast iron griddle and place it on half the grill to add versatility to your outdoor cooking. What we don't love about this grill is that it's a bit heavy for a portable grill. Also, indirect cooking is not possible with this grill.
Pros:
Even heat distribution

Split grates for added versatility

Can be used with a 20lb. LPG tank
Cons:
Heavy for a portable (31 pounds)

No indirect cooking

Difficult to attach the propane canister
2. Weber 10020 Smokey Joe 14-Inch Portable Grill
Portable Grill Under $50
If the Weber 22-inch Original Kettle is choice for best charcoal grill ever, then the Smokey Joe is your kinda grill. All the things you love about the original Kettle grill can be found here. The Smokey Joe features a porcelain-enameled coating for rust resistance, a glass reinforced nylon handle, a top and bottom air vent, and a triple nickel-plated grate. The grill can easily cook for 2-3 people, fitting 6 burgers or 3 steaks at a time.
Cooking with this baby requires a little bit of learning. It may take you a couple of times before you can control temperature really well. Overall, every meal delivered is delicious. And what makes this deal even sweeter, Weber gives a 10-year warranty on this baby! However, there are things that we believe could be better. First, there is no locking mechanism to keep the lid and body together when transporting the grill. In fact, there are no handles for holding the grill when transporting it.
This means that once you've set it up and cooking, you can't move the grill anymore if you need to. And if you're moving it from the table/ground to the car or vice versa, you'll need to make sure that the lid doesn't fall over while you're walking. Nothing is going to keep it on there. Unless you get a piece of rope and tie them together.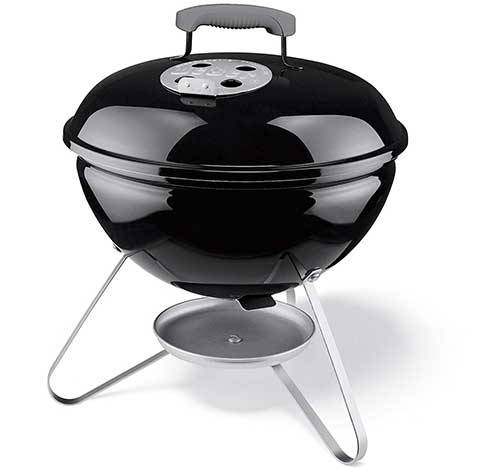 Pros:
Lightweight (only 10 pounds!)

10-year warranty

Easy to assemble
Cons:
Can only feed 2-3 people at a time

A bit of a learning curve when controlling temperature

No handles on the side for carrying
3. Coleman Road Trip Propane Portable Grill LXE
Portable Gas Grill for the Money
Instead of lugging around a portable grill in your arms, why not just drag it behind you? Coleman's Road Trip LXE lets you wheel your grill to and from the car. You can wheel it standing up or in the folded position easily. More importantly, its heavy weight (41 lbs) ensures that the grill stays stable and standing.
It's definitely not going to be collapsing to the ground while you're cooking your meal. The Road Trip LXE is also a top pick because it has two 10,000 BTU steel burners that you can control independently. Not only do you have powerful burners for cooking, you have the added versatility of 2-zone cooking or cooking two different types foods at different temps at the same time.
Like the Weber, this portable grill comes with removable porcelain-coated cast iron grates which can be switched with a pan grate or griddle for even more versatility (sold separately). Other features that make this grill stand out is the 285 square inches of cooking space (good for 4-5 people), the sliding tables, three built-in tool holders, and a removable grease tray.
Pros:
Solidly constructed

Easy cleanup

Even heat distribution
Cons:
Low lid clearance (no whole chicken roasts here)

May be a bit too heavy for some (lifting it into/out of your trunk)

Can get really hot (no built-in temperature gauge)
4. Lodge L410 Pre-Seasoned Sportsman's Charcoal Grill
Portable Grill Under $50
This hibachi grill is considered one of the best in the market. It's a crowd favorite for those who go camping, attend tailgate parties, and the like. Like its name suggests, the cast iron cooking grate is already seasoned. It provides you with 114 square inches of cooking space – not much but good enough for a handful of burgers, steaks, or hot dogs. The grate has two adjustable heights which, along with the sliding damper at the bottom, serves to control temperature.
A flip-down door lets you access the coals easily. And the wire bail handle is there to help you carry this grill. Take note that the entire hibachi grill is made out of durable cast iron. Yes, it's going to last a good long while. But it's also going to be incredibly hot while you're cooking and it will stay that way for a long time after cooking. You'll need bricks or something that's not flammable rest the grill on. It's definitely not a tabletop grill. We love this grill because it reminds us of those good ole days when a man cooked over a campfire.
Plus, you can use a skillet (or something similar) on top of this grill to give you more versatility in your cooking. However, while cooking on this grill is a breeze, cleanup is a pain. Taking out the ash isn't easy. Because it is entirely made out of cast iron, you'll need to do quite a bit of maintenance on this baby to ensure it doesn't rust.
Pros:
Fast cooking time

Durable construction

Can feed a small group of people (fits around 7 burgers at a time)
Cons:
Very heavy and tips forward when lugging the grill from point A to point B using the handle

Can get really hot

Requires a lot of maintenance
5. Weber 121020 Go-Anywhere Charcoal Grill
Portable Charcoal Grill for RV
Yes, yes. We know it's another Weber charcoal grill. But you'll find that this portable grill truly deserves the #5 spot on our list. First off, this is a rectangular grill that features triple nickel-plated steel pivoting legs that can be used to secure the lid during transport. It has a glass-reinforced nylon handle that stays cool while you're cooking, adjustable top and bottom dampers for temperature control, porcelain-enameled coating for rust resistance, and a plated steel cooking grate that provides 160 square inches of cooking space. At 14.5 pounds, you know carrying this grill would be easy-peasy.
But the locking legs and side handles make carrying this grill around even easier. There are built-in lid hangers which allows you to rest the lid on the side of the grill to serve as a wind barrier. Because of its shape, this grill is much easier to store when not in use. You can store it inside a cabinet or under your seat in the RV. Temperature control with all 4 dampers are easy enough for the experienced griller though a height adjustable charcoal grate wouldn't go wrong. However, there is no hole for emptying out the charcoal ash so you'll have to flip the grill and dump the ash out after every cookout.
Pros:
Compact design is perfect for transport and storage

Cools down fast after cooking

Easy assembly
Cons:
Not easy to clean

Takes awhile to warm up

May not be stable when placed on sand or dirt
6. Weber 1211001 Jumbo Joe 18-Inch Portable Grill
Portable Charcoal Grill for Tailgating
If you don't like the Smokey Joe but you'd really like a portable Weber Kettle grill, then the Jumbo Joe should fit you perfectly. In fact, all the stuff we didn't like about the Smokey Joe was greatly improved upon in this portable grill. And yes, this costs more. But those extra dollars are totally worth it. The plated steel grate measures 18.5 inches in diameter which provides 240 square inches of cooking surface, easily fitting 4-6 steaks. The entire grill has a porcelain-enameled coating for rust resistance.
And the glass-reinforced nylon handle ensures your hand remains heat-free while you're removing the lid. The grill also features rust-resistant aluminum dampers for temperature control, a rust-resistant ash catcher for easy cleanup, a heavy-gauge steel charcoal grate, and a Tuck-N-Carry lid lock. Like the Original Kettle, this baby can cook wonders. You can easily do 2-zone cooking with this portable grill. And the lid holder makes grilling even easier. You get even heat across the grates and temperature control is a breeze. All in all, one of the best and biggest portable charcoal grills that money can buy.
Pros:
Even heat distribution

Lots of cooking space

Tuck-N-Carry lid lock
Cons:
Lid clearance is tight

No temperature gauge

The charcoal grate may rust over time
7. Char-Griller 2-2424 Table Top Charcoal Grill and Side Fire Box
Portable Smoker Grill
This portable grill from Char-Griller can serve as a tabletop grill or a Texas-style smoker once attached to your Char-Griller Barrel Grill. It features cast iron cooking grates that offer 250 square inches of cooking space, two adjustable side dampers, and a side slide-out ash drawer, and a stay-cool handle. Made entirely out of heavy steel, this charcoal grill is great at retaining heat. In addition, this material increases the grill's durability. However, it also makes the grill heavier than most of our picks at 41 pounds.
And, unlike the Road Trip LXE, it doesn't come with a cart that lets you pull it behind you. It is easy to assemble, use, and clean. Just ask any outdoor chef who has had the pleasure of cooking with this grill. For a portable grill, it's not perfect but it does the job. As a side firebox, it's definitely good for smoking. However, once attached to a larger grill, there's no going back. Also, the grill requires seasoning or treatment with heat-resistant paint to prevent rust and peeling.
Pros:
Side dampers make controlling temperature easy

Easy cleanup

Cast iron grates
Cons:
Paint may peel or bubble in high heat

Once attached to a bigger grill, cannot be used as a portable grill anymore

Heavy
8. Weber 54060001 Q2200 Liquid Propane Grill
Portable Gas Grill for Tailgating
Just like their charcoal counterparts, Weber's portable gas grills are also top-of-the-line. The Q2200 is the perfect example. It features one oval-shaped steel burner that has a 12,000 BTU-per-hour output. It has porcelain-enameled cast iron cooking grates that provide 280 square inches of cooking space, good enough for a family of four.
The easy-start electronic ignition allows you to ignite the burner right away while the infinite control burner valve settings let you easily control the temperature inside the grill. A built-in thermometer lets you keep track of the temperature while the lid is on. Other features include folding side tables, a removable grease pan, and a glass-reinforced nylon frame. Cleanup is a breeze. The grill's performance is top-notch.
Preheating the grill takes no time at all. The burner provides even heat distribution while the grates give you great heat retention and transfer. The cast aluminum lid and body ensures that the grill's housing does not rust but is still light enough to carry anywhere. However, this same housing is not as good at heat retention as a cast iron or a steel lid and body. Overall, this is a great Weber gas grill that you can take anywhere.
Pros:
Even heat distribution

Cast iron cooking grates

Lightweight but sturdy
Cons:
Decent heat retention; could be better

No lock on lid

Heavy
9. Cuisinart CGG-240 All Foods Roll-Away Gas Grill
Portable Grill for Apartment
Cuisinart's All-Foods Roll-Away Gas Grill is featured in our list because of checks off a lot of the items on our "must-have" list. It has a porcelain-enameled cast iron grill grate with 240 square inches of cooking space, a 15,000 BTU stainless steel loop burner, stainless steel folding side shelves, TwistStart electric ignition, temperature gauge, and a collapsible stand with wheels. At 41 pounds, this grill is no lightweight. But with the collapsible stand, you can just pull this baby behind you to where you need it to go.
And once you get there, the solid painted steel stand can be locked into place so it won't fall down on you while you're cooking. Of course, it will take a bit of strength to put it in and pull it out of the trunk of your car but maybe you can consider it a form of exercise? Anyway, we love the cast iron grill because it's great for heat transfer and heat retention.
Also, the double-walled stainless steel lid is great at heat retention so preheating takes just a few minutes. Now, take note that there's a gap between the lid and the body of the grill to make space for the slide-out shelves when storing. So you might find it a tad difficult to maintain a steady temp on a breezy day. But all in all, this is a great little grill that cooks fast and evenly, providing you with deliciously grilled meals wherever you go.
Pros:
Collapsible stand with large wheels that can travel on most terrains

Easy to clean

Great customer service
Cons:
Uses up a lot of gas

The cart may come improperly assembled as noted by several owners

Made in China
10. Cuisinart Petit Gourmet
Portable Grill for Boat Owners
Cuisinart's Petit Gourmet is truly petite measuring at 16.5 x 16 x 13 in and weighing 13.5 pounds. Despite it's small size, there's a whole lot to love about this portable grill. First, a one-pound propane canister is enough to fuel this grill for cooking. It features a 5,500 BTU stainless steel burner which may not seem like much but due to its compact size and the short distance between the burner and the cooking surface, you can get this baby to scorching hot in minutes. The porcelain-enameled 145-square-inch grilling surface is just enough to cook food for two which makes this the perfect portable grill for going on dates.
The grill cooks evenly, probably even better than some full-sized grills out there. What makes this one of the best portable grills in the market is the fact that it is so compact and light. You can easily store this in the trunk of your car, in your RV, in the back of your truck, etc. No heavy lifting required either. And since it cooks so good, the only thing you'll have a problem with is that it can't cook for all your friends at the next tailgate party. Then again, maybe they can get one of their own, eh?
Pros:
Heats up fast

Easy to clean; just take out the grate and wash with soap and water

Incredibly lightweight
Cons:
Only good for 1-2 people

A bit expensive for such a small grill

Tends to only last a year or so.
11. Smoke Hollow 205 Stainless Steel TableTop Propane Gas Grill
Portable Stainless Steel Grill
Smoke Hollow's Stainless Steel Tabletop Grill is a sturdy, compact grill that provides a total of 305 square inches of cooking space, 205 square inches of stainless steel cooking grates and 105 square inches from a chrome-plated warming rack. This fits around 8 burgers so you can feed about 4-5 people easily with this grill. It weighs just a bit over 20 pounds and has stainless steel foldable legs, a lock on the lid, and a large carry handle. All of these features ensure that it's easy to lug around wherever you want to go. And because it's entirely made out of stainless steel, this grill will last for a good long while.
The grill also features a 12,000 BTU Stainless Steel "U" Burner, a push button ignition, a commercial grade temperature gauge, and a slide-out stainless steel grease tray. The burner is pretty powerful, able to reach 500 degrees Fahrenheit in less than 5 minutes which means that your food can go from grill to table in a shorter amount of time. But, as in all good grills, there are some flaws.
This portable grill can easily reach high temps but has difficulty maintaining low temperature. So if you're planning on cooking fish and veggies, you better be keeping an eye on your food. Also, heat distribution is uneven because of the U-shaped burner. Overall, this is a grill that is truly portable, heats up quickly, and cooks pretty fast even if it does require a bit of skill since the heat is uneven.
Pros:
Powerful burner

Lots of cooking space

Lightweight and easy to carry
Cons:
Grease tray doesn't lock in place and can move around while you're carrying the grill around

Uneven heat distribution

Does not maintain low temperature well
12. Camco Olympian 5500 Stainless Steel Portable Grill
Portable Grill for RV
This one right here is the perfect grill for traveling in an RV. It even includes a mounting bracket that enables you to mount it on an RV mounting rail. And it comes with a 39-inch quick-connect low pressure propane hose that can be attached to any RV/trailer's quick connect propane outlet. But that's not all. The grill also comes with foldable legs so you can use it for tabletop grilling.
The Camco Olympian 5500 is made out entirely of stainless steel including its 12,000 BTU burner and cooking grate. It comes fully assembled so no need to take the time to do anything but to attach the propane tank and get started on your meal. It has 180 square inches of cooking surface and right underneath it is a cast iron smoker plate. This is the perfect way to ensure that the heat is evenly distributed and the flavors are vaporized back into the food as you cook. The Piezo electric spark starter makes for easy ignition. And the drip/grease tray can slide out for easy cleanup.
The downsides to owning this grill is that it can be too powerful, having a hard time maintaining a low temp. And the fact that it's only good for 2-4 people so maybe don't invite too many people on your travels? Also, if your RV or trailer does not have quick-connect fittings, you'll need to buy the appropriate fittings to modify the one on your RV/Trailer or propane tank. Overall, this portable grill is a cut above others offered for RV and camper van use.
Pros:
Comes with a mounting bracket and hose for attaching to the RV's quick-connect propane outlet

Cast iron smoker plate

No assembly required
Cons:
Can run a bit too hot

Requires you to purchase adapters if you wish to use propane tank or do not have the quick-connect fittings which are expensive

Can't do low and slow cooking
How to Choose the Best Portable Grill: The Ultimate Buying Guide
When you find yourself in the market for a portable grill, there are several things you've gotta decide on before you start browsing stores online or around your area. After all, just like when buying its full-sized brothers, an impulse buy of a portable grill will almost always bite you in the ass. And leave you without a grill for your upcoming travels. Now, before we go into the details, you'll need to keep in mind that there is no such thing as a perfect grill.
Because everyone has different ideas of what the grill of their dreams should be, depending on their needs and wants. And with all the options being offered in the market today, it can be a daunting task to find the right one. Which is why we created this buying guide to help you determine what would be the right choice for you. So let's get to it, shall we?
Gas or Charcoal?
What do you go for, gas or charcoal grill? Everyone has a preference. Gas is perfect if you want an easy startup and cleanup. And propane canisters generally take up less space than a bag of charcoal. Charcoal grills, on the other hand, provide you with that smokey flavor we all love. And there's just something about laying your coals just right, lighting them up, and getting the airflow just right so you get the temperature you need. It takes some skill, yes. But it's a challenge that some of us cannot resist. Plus, some portable charcoal grills do come with an easy cleanup system like the Char-Griller 2-2424 Table Top Charcoal Grill and Side Fire Box. So, gas or charcoal? The choice is yours.
How Much Space do You Need?
Yes, no matter what they say, size is important. In this case, we're talking about the cooking surface. Most portable grills only offer a primary cooking space, no warming rack included. If you're planning on feeding a medium-sized group of people (say 6 individuals), you'll need enough cooking space to ensure that no one goes hungry in your group. For that kind of group size, you'll need something as large as the Weber 1211001 Jumbo Joe 18-Inch Portable Grill or the Smoke Hollow 205 Stainless Steel TableTop Propane Gas Grill.
Aside from how many people you're planning on feeding, you also need to consider what foods you are planning on cooking. Do you need to think you'll be cooking your entire meal on the grill? If so, you'll also need a lot of cooking space. For example, the Cuisinart CGG-240 All Foods Roll-Away Gas Grill offers 240 square inches of cooking space which is just enough space to fit two 10-ounce steaks, corn on cob, and potatoes to feed a group of two people.
Another consideration regarding size is storage. All of our picks will definitely fit in the trunk of your car or the back of your truck. But not all of them would fit well on a boat or in an RV. Also, you might want to consider where you plan on storing the grill when it's not in use – kitchen cabinet, garage, patio, etc. Some of the best portable grills like the Weber 121020 Go-Anywhere Charcoal Grill or the Cuisinart Petit Gourmet are small enough to fit inside a cabinet or under a seat. Others like the Coleman Road Trip Propane Portable Grill LXE are quite big, especially since they come with a collapsible stand that, when folded, cannot stand on its own.
For a Gas Grill, How Much BTU do you Need?
When it comes to BTUs, the higher the output doesn't necessarily mean the better it will be. This does not really apply to other grills especially to electric smokers, but it does to gas grills. In theory, the BTU rating lets you know how hot the grill will get. But that's not what truly determines the heat output produced. A very high BTU rating for a small grill may mean that it's compensating for the lightweight materials used or possible gaps between the lid and the body which can affect heat transfer negatively. A really low BTU rating may mean that the preheating time takes a while or that it is slow to recover the desired temperature whenever you lift the lid.
What Other Things You'll Need to Consider?
Temperature control is an important feature of whether you chose a portable gas grill or a charcoal one. In a charcoal grill, you'll have to make sure that there are vents/dampers that will allow you to reach and maintain your desired temperature for cooking. In a gas grill, you'll need a valve that lets you control how much gas is used to fuel the grill which, in turn, helps you control temperature. In some portable gas grills like the Coleman Road Trip Propane Portable Grill LXE, there are two burners that can be controlled independently which adds versatility to your cooking.
You should also consider the type of cooking grate that comes with the grill. Porcelain-enameled cast-iron cooking grates are perfect for searing, heat transfer, and heat retention. However, it can easily be damaged and needs special care. Stainless steel grates are easy to clean and maintain. Even better, these hold heat pretty well. However, while it will last a long time and is practically rust-proof, these grates will get dark after a few uses. Chrome and nickel-plated grates are decent enough but not equal to cast iron and stainless steel. Also, these materials tend to rust.
Last but definitely not least, you'll have to consider portability. That is, after all, why you're buying the grill. Is it lightweight? If it's a bit heavy, does it come with a cart that helps you wheel it where you want it to go? If it has wheels, can it handle different terrains – rocky dirt, sand, grassy grounds, etc.? Can the grill fit in your vehicle – car, truck, boat, RV? The answers to these questions can help you narrow down which portable grill suitably fits your needs.